2nd Lieutenant Walter Winkworth
2nd Lieutenant Walter Winkworth, 5th Battalion Northumberland Fusiliers, died of wounds on the 26th August 1915 at 32 years of age and his remains are buried in grave I. C. 130 of Bailleul Communal Cemetery Extension, Nord-Pas-de-Calais, France.
Walter's Army service record is available for a fee at the National Archives and his Medal Roll Index shows that he was posthumously awarded the 1915 Star, Victory and the British War Medals after his father applied for them in 1922.
He was the eldest child and first son of Walter Albert (1857 – 1927) and Maria Louisa Munroe Winkworth (nee Simon) (1859 – 1933). They were married in 1881 in Newcastle Upon Tyne and had three children:
· Walter Winkworth (b 1882)
· Leonard Stuart Winkworth (b 1889)
· Elsie Maud Winkworth (b 1893)
The Winkworth's appear to have had a good standard of living as Walter senior in the 1911 Census was an Assistant Superintendent, Telegraphs with the General Post Office and at his death in 1927 left £3751 10s 2d in his will and his wife Maria in turn left £5373 13s 4d to her two remaining children Leonard and Elsie.
Walter was unmarried and had no children. In his will he left £307 16s to his father Walter Albert Winkworth, a substantial amount for 1915 (about £22,000 in today's money).
Walter was born in Newcastle Upon Tyne in 1882 and in the 1911 Census was single and working as an Electrical Engineer. He was living with his parents, brother Leonard and sister Elsie at 22, Simonside Terrace, Heaton, Newcastle Upon Tyne. He was an active Scoutmaster of the 19th Newcastle Upon Tyne Troop, and Divisional Scoutmaster for the East End Division of the Newcastle Upon Tyne Association.
Walter was also a Freemason and member of Lodge Temperance No 2557 which at the time held its meetings in the Old Assembly Rooms, Westgate Road, Newcastle Upon Tyne. He was proposed as a fit and proper person to be made a Freemason by Bro Edward Ward Watson, the father-in-law of his uncle Frederick Simon. Walter is recorded as being a 24 year old Electrician living at 22, Simonside Terrace, Heaton and was initiated into the Mysteries and Privileges of Ancient Freemasonry on the 17th December 1906, passed to the second or Fellow craft degree on 15th April 1907 and raised to the Sublime degree of a Master Mason the following month on 20th May 1907.
Walter was an associate member of the Institution of Electrical Engineers and the following is taken from Walters excellent biographical sketch in the Institution of Engineering and Technology, Electrical Engineer's WWI Roll of Honour which can be read in full here.
He proceeded to France on July 9 1915 with a draft for the 1/5th Battalion of his Regiment, at the time one of the battalions of the 149th Infantry Brigade of the 50th (Northumbrian) Division. This Division had crossed to France in the middle of April, 1915, and its 149th Infantry Brigade had, within a few days of its arrival at the Front, gone into action at the Battle of St. Julien (April 24 — May 4 ), where it had behaved splendidly in the crisis of the German Gas Attack. When he joined his new unit, his Division was in the Command of the II Corps, which then lay in the Second Army area, and stationed in the Armentières Sector. His Division was at the time on the right of the II Corps front and made junction on its southern flank with the Canadian Division, which formed the left flank of the III Corps. Immediately to the north of the II Corps, the British line was held by the V Corps: on the front of the latter Corps, the enemy, from time to time, showed considerable activity (Actions of Hooge—July 19 and 30, and Aug. 9); otherwise, there was a period of relative calm during the later days of the summer of 1915. Raids and reconnaissances were, however, being frequently carried out along the front held by the II Corps. On the evening of August 25, he was directed to carry out a night reconnaissance in the neighbourhood of Houplines, and accordingly led his Platoon out of the trenches into No Man's Land to accomplish the duty assigned to him; whilst he was feeling his way forward the enemy put up flare lights and thus located his command. The Germans then suddenly opened a heavy machine-gun fire on his detachment and he was hit in the abdomen and the right arm. He was conveyed at once to the Military Hospital at Bailleul, where he succumbed to his wounds on the following day.
At the Lodge Temperance meeting of 20 thSeptember 1915, the Worshipful Master WBro. John Harris made sympathetic reference to the loss the Lodge had sustained in the death of Bro Lieut. Walter Winkworth who had been killed in action in Flanders. The brethren stood in sympathy.
Interestingly, two years earlier at the Lodge meeting of 20th January 1913, Bro Frederick William Simon proposed and Bro W. Newton seconded on behalf of Walter Winkworth, Walter's brother Leonard Stuart Winkworth, age 24 years, a draughtsman residing at 22 Simonside Terrace. Leonard was initiated on 21st April, passed on 19th May and raised on 21st July 1913. This was very much a family affair as Bro Fred W. Simon was Walter and Leonard's uncle (their mum's younger brother) and would later become master of the Lodge in November 1913. Bro Fred, a grocer, was initiated on 20th January 1902, passed on 17th February, raised on 17 March 1902 and remained a subscribing member until his death on 1st June 1927. His obituary from the journal of "The United Methodist Church" can be read here. He also introduced Walter and Leonard's father, Walter Albert Winkworth, to Freemasonry in 1903. Walter senior was a 46 year old telegraph clerk living at 14, Cardigan Terrace, Heaton when he was initiated into Lodge Temperance on 21st September 1903, passed to the second degree on 19th October 1903 and raised on 15th February 1904. He remained a subscribing member of the lodge until his death on 1st August 1927.
From the Newcastle Illustrated Chronicle of Monday 30 August 1915:
5th Northumberland Fusiliers
Second Lieutenant W. Winkworth, Heaton (killed).
From the Newcastle Journal of Monday 30 August 1915:
Word has been received by his parents at 22, Simonside Terrace, Heaton that Second Lieutenant W. Winkworth, 5th Northumberland Fusiliers, was killed in action on 25th August. Before joining the army he was in the employ of J. H. Holmes and Sons, Electrical Engineers, and was also district scoutmaster, for the east end, in which work he took an active part.
Walter is mentioned in the obituary of his father in "The United Methodist", the weekly journal of the United Methodist Church, of Thursday, September 8, 1927 which can be seen here.
Walter is also commemorated in several locations in Newcastle Upon Tyne:
His name is inscribed on the Simon family headstone, see photos below, which is located in Byker and Heaton Cemetery, Newcastle Upon Tyne as follows:
2nd Lieut. Walter Winkworth
5th Northb. Fus.
Killed in France Aug. 26th 1915,
Aged 32 years
Buried at Bailleul
The headstone also lists Walter's Aunts – Ethel Maud Simon, Mary Helen Simon and Sarah W. Gillings, Walter's grandfather – Rev. Joseph Simon and
Walter's uncle – Frederick William Simon.
Memorial Plaque 1914-1918 St Gabriels Church, Heaton (H91.05)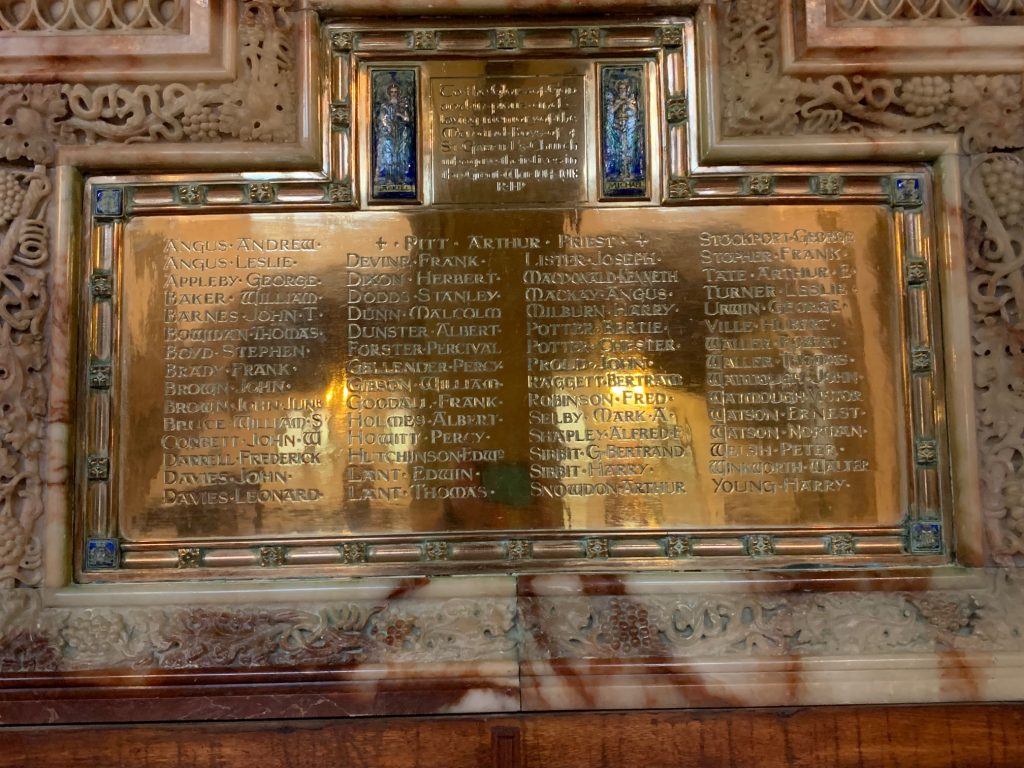 RRoll of Honour 1914-1918 Rutherford College, Newcastle Upon Tyne (NUT126)
Library Plaque 1914-1918, Rutherford College (NUT070) (College became Rutherford Comprehensive School which was demolished and the RoH is now with the Tyne and Wear Archives)
Plaque 1914-18 5th NF Drill Hall (W2.07) (originally in the Officers mess of the Walker Drill Hall for the officers of the 5th Battalion, Northumberland Fusiliers, Walker on Tyne the plaque is now in Christ Church, Walker Parish Church)
Masonic Great War Project Roll of Honour. This is a searchable database primarily taken from and based on the 1921 Masonic Roll of Honour 1914-1918, which was commissioned by Grand Lodge and distributed out circa September 1921.
Masonic Roll of Honour 1914-1918. This is an extract from the United Grand Lodge of England's Roll of Honour for the Province of Northumberland hosted on the North East War Memorial Project website (where he is listed as a Lieutenant)
Roll of Honour 1914-18 Lodge Temperance 2557 (NUT254)
This is the Commonwealth War Graves Commision entry for Walter Winkworth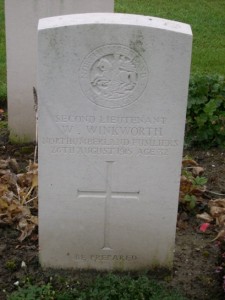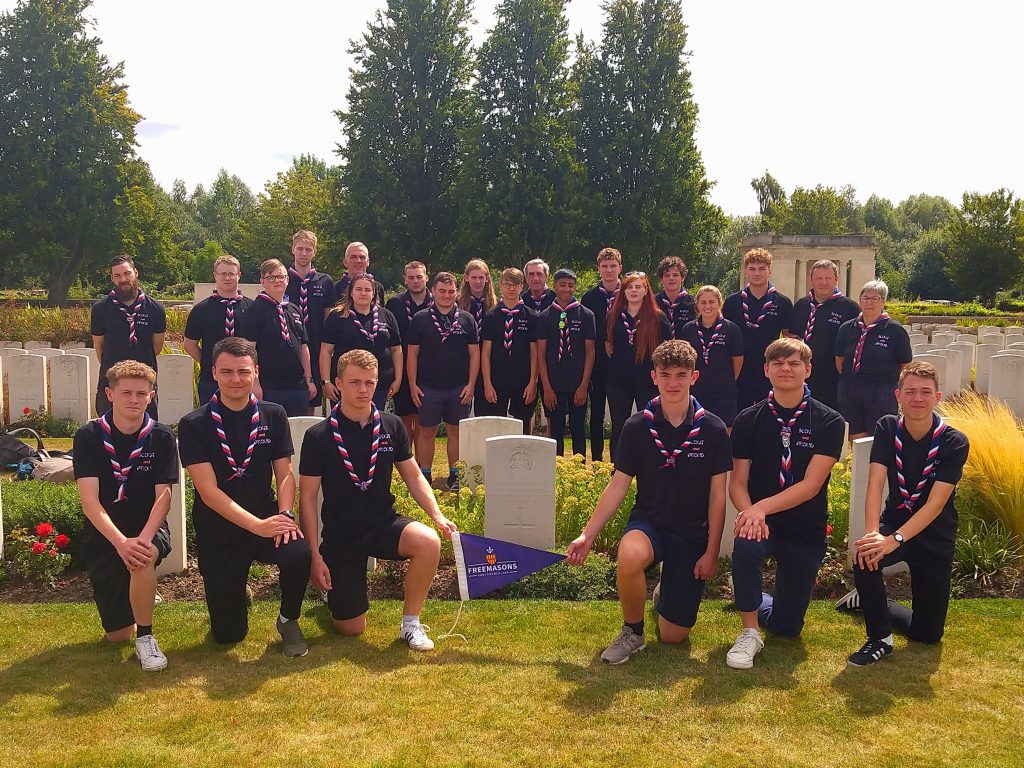 Page updated 18/08/2019