Lodge Prudence 3424
These are the brethren of Lodge Temperance 2557 who formed Lodge Prudence No. 3424, consecrated on Wednesday 30th March 1910 at the Assembly Rooms, Barras Bridge, Newcastle Upon Tyne.
W.Bros. John Armstrong, WM and Morris Marks, Chaplain were also founder members of Lodge Temperance 2557. Bro. William Newton later became a founder member of Lodge Justice No 4421.
Unfortunately, Lodge Prudence No 3424 was erased on the 12th June 1991 due to decreased membership.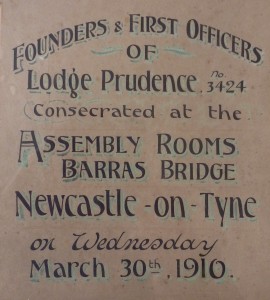 [table width="600″ colwidth="5|300|5|340″ colalign="center|center|center"]
Title,Name, Lodge, Roll
W.Bro.,John Armstrong PPGSofWorks,2557,Worshipful Master
W.Bro., Thomas William Hunter,2557, IPM
Bro.,James Roger Lightbown PM,48,Senior Warden
Bro., William Corn Crowe,2557,Junior Warden
Bro.,William John Slater,2557,Senior Deacon
Bro.,George Wells,2557,Junior Deacon & Snr Ass. Steward
Bro.,William Lancaster,2557,Inner Guard
W.Bro.,James Robert Welch,2557,Ass. Director of Ceremonies
W.Bro.,Morris Marks PPGSD,2557, Chaplain
Bro.,David Octavius Skilling,2557,Secretary
W.Bro.,George Henry Slater,2557, Treasurer
Bro.,Isaac William Jaques,2557,Ass. Secretary
Bro.,James Mills,2557,Senior Steward
Bro.,William Newton,2557,1st Ass. Steward
Bro.,Joseph Robinson,2557,2nd Ass. Steward
Bro.,John William Hobson,2557,3rd Ass. Steward
Bro.,Silas Bidgood,2557,4th Ass. Steward
Bro.,Anthony Oglethorpe,2557,Junior Steward
Bro.,Robert Hume,2557,Master Mason
Bro.,Harry Wood,2557,Master Mason
Bro.,Thomas Reed Jobson PM,1664,
[/table]