Lieutenant John Powe Roberts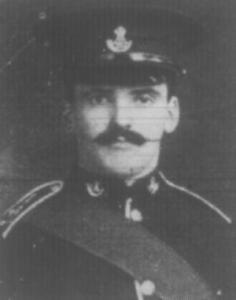 Lieutenant John Powe Roberts, 9th Battalion Australian Infantry, Australian Imperial Force, was killed on the 25th April 1915, 33 years of age and is buried in grave SP. MEM. 19, Walker's Ridge ANZAC Cemetery, Turkey.
He was the son of Arthur William and Jessie Hannah Roberts (nee Mainwaring). They were married in 1870 in Swansea and had at least ten children.
 

Arthur William Roberts (b 1871)

William Henry Roberts (b 1874)

Jessie Maria Roberts (b 1875)

Alfred Horatio Roberts (b 1877)

George Augustus Roberts (b 1879)

Herbert V. Roberts (b 1881)

John Powe Roberts (b 18th October 1882 – d April 25th 1915)

Adrian Alexander Roberts (b 1883)

Septimus Mainwaring Roberts (b 1884)

Sidney Ernest Roberts (b 1888)
Jessie died in 1893 and Arthur married Mary Elizabeth Southern in Newcastle Upon Tyne in 1896  and they had three children, two survived infancy:
Gladys (b 1899)
Albert (b 1901)
John  married Sarah Mallen in 1904 in South Shields. There is no evidence that they had any children.
John  was born in Jarrow and in the 1911 Census  was working as a plumber, living with his wife Sarah at 16, Armstrong Street in Dunston on Tyne, Gateshead.
John was a Freemason and joined Lodge Temperance No 2557 meeting at the Old Assembly Rooms in Newcastle Upon Tyne in June 1909 at 27 years of age. He was a plumber living at 16, Armstrong Street, Dunston on Tyne, Gateshead. John was proposed by Bro Robert Charlton and seconded by Bro William Barker at the regular Lodge Temperance meeting held on 17th May, then a month later on the 21st June, after a successful ballot, he was initiated into Freemasonry. He was passed to the second degree on the 16th August and raised to the sublime degree of a master mason on the 20th September. He signed and received his Grand Lodge certificate in open lodge at the meeting held on 20th December 1909. He remained a subscribing member until his death in April 1915.
The outward passenger lists show that John and his wife Sarah, accompanied by his brother Septimus, boarded the ship "Suffolk" at Liverpool on the 10th June 1911 bound for Australia. There is no evidence in the Lodge's minutes that the brethren had been informed of John's emigration to Australia, although they may have been aware. John settled in North Ipswich, Queensland with his wife and worked as a "sanitary engineer". John's step sister Gladys and step brother Albert travelled Queensland to join them in late 1913.
According to his Australian attestation papers, John had previously served twelve years in the Durham Light Infantry as a Sergeant. When he enlisted at the outbreak of the First World War in the Australian Imperial Force,  on the 28th August 1914 he was appointed 2nd Lieutenant, 11th Infantry Battalion, D Company. He later transferred to the 9th Infantry Battalion where he was promoted to Lieutenant on the 1st February 1915.
John embarked on the "Omrah" with about 1104 other men and women in late 1914 on route for Egypt. The ship arrived in December where the 3rd Brigade remained at the Mena Camp for training purposes. Months later, John was a part of the numerous battalions that landed in Gallipoli between 4.30am and 4.45am on 25 April 1915 – the day now known as as Anzac Day in Australia and New Zealand. It was on this day he was killed in action – one of the many hundreds of casualties. Charles Bean, who was accredited as Australia's official war correspondent throughout the Gallipoli campaign, and who later notably became an official war historian, declared, "While the forward parties in Owen's Gully were fairly protected, those in the old trenches in The Cup were losing heavily. The shrapnel enfiladed the trench and pattered on the overhead cover of the gun-pits. Near the tents, Lieutenant Roberts – the life of the 9th Battalion – was killed."
He was posthumously awarded the 1914 – 1915 Star, British War Medal and Victory medal.
At the regular meeting of Lodge Temperance held on 16th August 1915 the Worshipful Master WBro. John Armstrong announced that he had received a letter from Mrs Roberts, widow of J. P. Roberts informing the Lodge that her husband had been killed in action in the Dardanelles on April 25th. The Worshipful Master on behalf of the officers and brethren instructed the Treasurer to send a letter of condolence. The brethren stood in sympathy.
This is the CWGC entry for Lieutenant John Powe Roberts
He is commemorated on the
Masonic Roll of Honour 1914-1918 –This is an extract from the United Grand Lodge of England's Roll of Honour for the Province of Northumberland hosted on the North East War Memorial Project website.
Masonic Great War Project – This is a searchable database primarily taken from and based on the 1921 Masonic Roll of Honour 1914-1918, which was commissioned by United Grand Lodge of England and distributed out circa September 1921.
Roll of Honour 1914-18 Lodge Temperance 2557 NUT254 hosted by the North East War Memorial Project website.
The Australian War Memorial Roll of Honour
Photo of John Powe Roberts courtesy of Nancy Beardsley
Page updated 12/11/2016