Guy Hayler
Guy Hayler was a life long temperance campaigner, Freemason and co-founder of Lodge Temperance 2557. He was formerly a member of Prudence Lodge 2069, Leeds were he was initiated on 10th January 1885, passed to the 2nd degree on 14th February 1885 and raised to the sublime degree of a Master Mason on 14th March 1885.
We don't know why a group of Freemasons came together in early 1895 to discuss the formation of a Lodge with no intoxicating drinks at any of its meetings but it is unsurprising that Guy attended the first meeting, a leading advocate of the Prohibition movement and prominent in the area. It was held in a room he provided at the North of England Temperance League, 131, Pilgrim Street, Newcastle Upon Tyne and after much discussion, it was agreed to sign a petition for the formation of a Temperance Lodge and forward it to Grand Lodge. The petition shows that Guy was unattached but formerly of Prudence Lodge  2069. He was a Secretary living at 38, Heaton Park, Heaton, Newcastle Upon Tyne.  Grand Lodge approved the petition and granted a warrant and Lodge Temperance 2557 was consecrated on Wednesday, 30th October 1895. Guy became the first Senior Deacon, a position he held for a year.
Guy, born on the 5th of November 1850 hence the name, was the son of George Hayler, a tailor from the small town of Battle in Sussex  and  Mary Wood Tyler Brignell , the widow of William Judge. George and Mary were married on the 1st June 1847 in Battle, Sussex. Mary was George's second wife, his first, Elizabeth (Weekes) he married in 1828 died in 1841. George had the following  children:
With Elizabeth:
William (b 1830)
Ann (b 1832)
James (b 1834)
George (b 1836)
Henry (b 1837)
Alfred (b 1840)
With Mary:
Mark (b 26/2/1847 – 25/01/1927), registered at birth as Mark Hayler Judge.
Guy (b 5/11/1850)
Mary's children with William Judge:
William Judge (b 1831)
Henry Judge (b 1833)
Sarah (known as Mary) Judge (b 1837)
John Brignell Judge (b 1841 – 1842)
His Granddaughter, Shirley Hare, records that "When he was six years old, young Guy was persuaded to sign the pledge on the anvil at Mr. Noakes blacksmith shop in Hastings. This was to be the start of a life long devoted to the cause of Temperance. His parents both died before he was out of his teens, and at fourteen with very little education he left Battle to seek his fortune. Two or three years later, after many false starts in various towns he arrived in London. Somebody handed him a handbill advertising a meeting to be held in the Exeter Hall, 26 King William Street. This proved to be a great temperance rally and my grandfather became immersed in the cause. He was given the role of steward and attended all the public meetings. In 1870 when he was twenty, he joined another branch of the movement called the Good Templars, an organisation that had Lodges in different parts of the country. This particular lodge was over William Tweedies bookshop in the Strand and it was here that he had the good fortune to meet my grandmother Elizabeth Harriss."
Guy and Ann Elizabeth Harriss married at St. Marks Church, Kennington on July 29th, 1874 and they had eight children:
Guy Wilfred (b 5/02/1877)
Walter Trevelyan (b 1881 – 1958)
Edith Louisa (b 19/06/1882 – 1970)
Ethel Gertrude (b 15/12/1884 – 1979)
Nellie Brignall (b 20/12/1885 – 1978)
Mark Henry Chambers (b 2/12/1887 – 1986)
Glen Herbert (b 11/4/1889 – 1986)
Hilda Rewcastle (b 18/4/1891 – 1984)
Shortly after their marriage, they moved to Hull where they ran a temperance Hotel – Hayler's Temperance Hotel, Temperance Club and Billiard Room. The 1881 census shows Guy as a hotel proprietor in Albion Street, Hull with his wife, children, mother-in-law and two Salvation Army officers in residence. Guy continued his involvement with the Temperance movement, remaining in Hull for 16 years before moving to Newcastle, where he  became full time secretary of the North of England Temperance League.
Established in 1858, the North of England Temperance League advertised itself as an efficient organisation throughout the Northern Counties for the purpose of promoting union of effort, and promptness of action, in favour of total abstinence for the individual, from all intoxicating liquors, and prohibition for the State by the total suppression of the liquor traffic by legislative enactment.  By uniting together in one bond of union. Temperance Societies, Bands of Hope, Good Templar Lodges, Juvenile Temples, Rechabite Tents, Sons of Temperance Divisions, and all other societies having for their object, total abstinence and prohibition. The enrollment of teetotalers and others as members and associates, so as to create an individual interest in the advancements of the general objects of the Temperance Cause.
In it's 1894 year book, Guy is described as follows:
 "Mr. Guy Hayler, Secretary North of England Temperance League, was born at Battle, near Hastings, Sussex, on the 5th of November, 1850. He signed the pledge in the blacksmith's shop of Mr. Noakes when about six years of age and joined the Rock Band of Hope, Hasting. In 1864 he went to Tunbridge Wells, Kent, and though young took part in the Temperance work, assisting at the meetings on the Common and other places. In 1866 he went to London and there he joined with the Poland Street Temperance Society and the Five Dials Mission in the work, and at the later part of the year joined the United Kingdom Alliance, since which time he has taken a very active part in promoting the political phase of the Temperance movement. On the first of March, 1874, Mr. Hayler was selected from a large number of applicants as the agent of the Hull Auxiliary United Kingdom Alliance, which position (together with that of Secretary) he held for 11 years. In September, 1874, he organised a Band of Hope demonstration and shortly after formed the Hull and District Band of Hope League and held the position of Hon. Secretary for over three years, during which time he organised, with Mr. W. Gibson, the now celebrated " May-day Festival," in Hengler's Circus, and at his suggestion a Band of Hope Sunday was established. On the visit of the Yorkshire Band of Hope Union (on whose Executive he sat for three years), Mr. Hayler secured the delivery of no less than 127 sermons and Sunday school addresses, the largest number ever given in Hull on one Sunday for the Temperance movement. He was an active member of the Executive which carried out the Temperance exhibition in the Artillery Barracks, Hull, under the auspices of the Band of Hope League. It was during his secretaryship of the League that he presented a memorial to Mr. Travis, Stipendiary Magistrate of Hull, which resulted in all licenses for Hull fair being refused. In March, 1882, Mr. Hayler, in conjunction with Mr. J. A. Wade, J.P., organised the Yorkshire Sunday Closing Movement, and devoted over 12 months in promoting a house to house canvas of all Yorkshire, attending conferences in most of the large towns of the county, resulting in nearly half a million of signatures being sent to Parliament in favour of the Yorkshire bill. He was appointed Secretary N.E.T.L. in July, 1889."
It was during Guy's time at the North of England Temperance League that his association with Rosalind, Lady Carlisle, an aristocratic temperance reformer began. His granddaughter records "Family legend has it that one hot summer evening about 1890, my grandfather was speaking at a meeting in York, very close to the railway station. The windows were open and his voice traveled clearly. Sitting on the platform waiting for her train was Lady Carlisle [an aristocratic temperance reformer]. She was so impressed by what she heard she forgot about her train and went to the meeting. From then on she and my grandfather became great comrades in the Temperance cause." In 1892, the Countess of Carlisle was elected as President of the North of England Temperance League.
Guy was also a member of the Independent Order of Good Templars and served as their Grand Councillor for two years from 1897 – 1899 and in Easter of 1899 was presented with seven volumes of The Complete Works of John Greenleaf Whittier, Macmillan & Co., London, 1889.
The bookplate below is found inside each of the seven volumes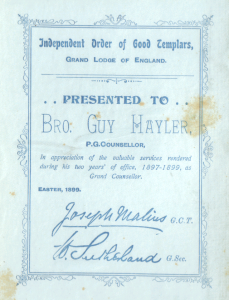 It would seem from newspaper reports of the time that it wasn't all plain sailing, as there were instances of resistance to the Temperance cause as reported in the Newcastle Courant of  21st May 1892 of a meeting at the Hetton, Miners Hall where an attempt was made to present Guy as the temperance candidate for the Houghton Division.
"The hall was densely packed with a disorderly concourse of men. In vain did the chairman try to get a hearing. Each attempt was accompanied with loud and boisterous shouting and whistling. …The meeting was now in a state of noisy tumult and of the wildest disorder and after a short consultation the temperance party left the platform and the meeting broke up in great confusion…..
As the temperance party were trying to effect an exit from the hall they were attacked by the furious mob in waiting, and were quickly minus their hats: their wearing apparel was torn on their backs, and themselves most roughly handled. Handfuls of sods and mud were pelted, as well as old shoes, sticks, &c. …….. they fled,  followed by the crowd, but they managed to find a temporary place of refuge at the police station."
Perhaps one of the most notable events organised by Guy during his time as Secretary of the NETL was the visit by Her Royal Highness, the Princess Louise, sister of His Majesty the King, accompanied by her husband, His Grace the Duke of Argyll, who visited Newcastle on Tuesday 14th October 1902. This was for the dual purpose of opening  the new Temperance Institute and Memorial Hall, which had been acquired by the North of England Temperance League in Westgate Road and Rutherford Street and of inaugurating a five days bazaar and rustic carnival, promoted by the NETL in the Newcastle Town Hall. The bazaar was to raise funds for the League. The Shields Daily Gazette of 15th October 1902 gives a full account of the visit and describes that after a luncheon and short ceremony declaring the Temperance Institute and Memorial Hall open there followed the inauguration of the Bazaar in the Town Hall.
"…..On alighting from her carriage Her Royal Highness was escorted to the Bazaar platform by his Worship the Mayor, and was attended by His Grace the Duke of Argyll, the Earl and Countess of Carlisle, the Mayoress of Newcastle, the Very Rev. G. W. Kitchen, D.D., Dean of Durham, the Sheriff. Mr. Guy Hayler, secretary of the North of England Temperance League, and a number of the leading Temperance lights in the city….. "
His Granddaughter records that about 1906 Guy " had what appeared to be a nervous breakdown through over work and could no longer carry on the burden of his activities in Newcastle. His doctor told him he must have a complete rest – a very difficult task for a man with such a large family. However Lady Carlisle came to the rescue. She said she had two cottages in the village of Bulmer which could easily be converted into one large house to accommodate the family. She also proposed to make my grandfather an allowance so that he could carry on the work of the cause at his leisure, speaking at village meetings."
Guy remained in Bulmer until 1909 when, with his health restored, he moved to London and continued with his Temperance work. He died in Surrey on 23rd September 1943 leaving £952 to his son Mark and daughters Edith and Ethel.
Guy was a member of Lodge Temperance 2557 for only a year, but his legacy continued long after he left the Lodge and the North East. In masonic teaching 'Temperance' is one of the cardinal virtues and in the years 1906 – 1922 Lodge, Temperance helped found and name four daughter lodges, Burdon, Prudence, Fortitude and Justice  all of which practiced a total abstinence from the consumption of alcoholic liquor. They in turn had daughter lodges with similar virtues.
If you would like to read more about Guy, the Hayler family and their time at Bulmer and after, his granddaughter, Mrs. Shirley Hare has written an excellent memoir which was typed by her son, Jonathan Hare  and is available online here.
Many thanks to Shirley and Jonathan Hare for allowing the use of some of the memoir in this short biography and for the photograph of Guy Hayler.
Photo of bookplate courtesy of Roger W. Haworth the custodian of the seven volumes.
Page updated 16/07/2018